Looking for quality heating and air-conditioning services near Fenton and Holly area? With our locally sourced reviews, you can get an insider's look at the best service providers in your area that can meet all your needs.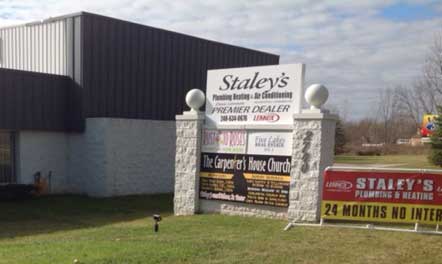 Address:
2740 Grange Hall Rd, Suite F, Fenton, MI, 48430
Fax: +1-248-634-0758
URL: https://staleyplumbingheating.com/locations/staleys-heating-and-air-conditioning-fenton/
Opening Hours:
Monday
:
8:00 am – 5:00 pm
Tuesday
:
8:00 am – 5:00 pm
Wednesday
:
8:00 am – 5:00 pm
Thursday
:
8:00 am – 5:00 pm
Friday
:
8:00 am – 5:00 pm
Research Your Options
Start by researching different heating and air-conditioning services near you and reading up on customer reviews to find the best one for your needs. Compare different local companies in terms of their certifications, experience, reputation, prices and customer feedback so you can make an informed decision. Be sure to also check that any potential companies are fully licensed and insured.
Get Referrals and Read Reviews
Before selecting a heating and air-conditioning service, make sure to gather referrals from friends, family, or other trusted sources. Reading reviews of individual services is also an excellent way to conclusively decide which one you will use. Reviews tell you not just about the overall quality of their services but also how much respect they treat customers with, how reliable they are in responding to service requests and how knowledgeable the technicians are. Select a service that comes recommended by people who have already had sufficient experience working with them.