Proud to be a Premier Lennox Dealer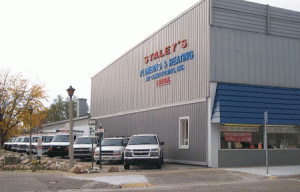 Staley's Plumbing, Heating and Air Conditioning is Genesee Counties oldest Lennox Dealer. Five generations of Staley's have worked in the business that services the Mid-Michigan area for plumbing, heating and air conditioning. As a Premier Lennox Dealer, we are held to the highest standards in the industry. You can trust Staley's to complete your project right the first time with the backup and support of a great service staff and quality manufacturers.
The quality of the products that well sell and support is critical to our success. Lennox furnaces and air conditioners are a good example of our dedication to quality and support. We also carry great American Made brands like Bradford White, Mansfield, Sterling Water Systems.
Our Company Heritage
The Founder:
Staley's was founded in June of 1941 by Alexander E. Staley and was first located at 115 E. Main St. in Flushing.
Flushing roots
In 1946 Al purchased the current location at 121 N. Cherry St. in Flushing, at which time Staley's became an authorized Lennox Dealer. During these first few years as the business grew, Al incorporated the business to include his brothers August and Robert. During the mid 1950's Al's three sons Richard, Gerald, and William went to work for the business.
Expansion
In 1958 Al purchased a second Lennox Dealership in Boyton Beach Florida which was run by Gerald and William. Gerald eventually purchased the Florida business from his father and William returned to the Flushing business. Al purchased Flushing Plumbing & Heating in 1966 and merged the business with Staley's. After the death of Al in 1970 , William bought the business. Over the next several years William's three sons Paul, Greg, and Scott went to work for the family business. In June of 2005 William retired and today his three son's own and operate the business. In these current years the fourth generation are starting to work in the company.
Today
We have grown over the years from a company that in 1941 had a 2000 square foot office/shop, 2-trucks, and a couple of employees to today, a 10,000 square foot office/showroom/shop, 15 trucks, and 20 employees.